As 2 tall women ourselves, we understand the importance of well-fitting clothing.  When style + fit come together, it is truly life changing.  We are a company fueled by the mission of helping ensure tall girls + women love the body they are in.  Our mission is to promote a healthy self-confidence through stylish clothing that fits.
Shop By Category of Tall Clothing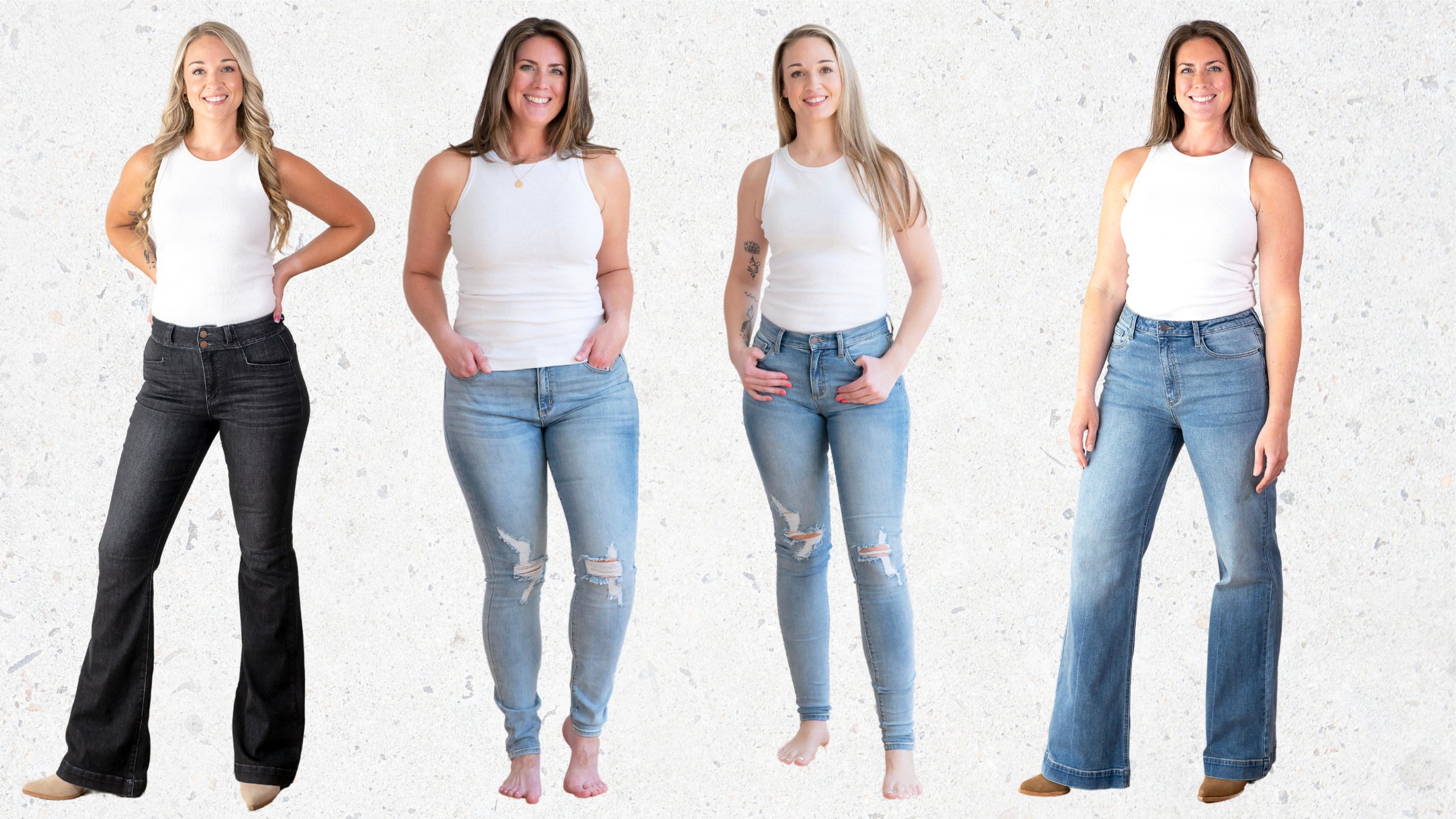 HELPFUL READ
Jean Sizes By Model
If you are looking for help finding the perfect jean size, this is the resource for you. This grid shows side by side comparison in the sizes our models wear, to help eliminate the guesswork for you.
Read Now
What Our Customers Have To Say
Amalli Talli is my go to for clothes that make me feel stylish and confident. It is truly a joy to be able to have a place to shop where I know that every piece has been thoughtfully constructed not to only work for my height, but to celebrate it!

Adia T.

5'10" | 34" Inseam
LOVE THIS BRAND!!There is just so much to love about Amalli Talli. From order date to arrival the process goes rapidly. I have been a very happy customer for nearly 4 years now. The Ladies do amazing job communicating the fit of each item via their walkthroughs on their Instagram.  In addition to that, they offer custom size charts for every item as well. Basically, these Ladies go above & beyond to ensure their customers have the necessary information & measurements at their fingertips to make shopping a breeze. About 25% of my wardrobe is from Amalli Talli & I'm very proud of that! 

Tori L.

6'1" | 36" Inseam
To say I'm a fan of Amalli Talli, is an understatement. Since discovering Amalli Talli in 2019, I have slowly replaced items that I was unexcited about in my closet with Amalli Talli pieces that I reach for often, and that fit me perfectly! Before Amalli Talli, I had invested so much into a wardrobe that I didn't love. Now you'll find me wearing at least one piece from Amalli Talli each day. They fit lovely,  wash up beautifully, and include timeless styles and fun trends alike. I'm proud to be a lifelong Amalli Talli customer from daily wear to special events!

Madisen I.

6'3" | 36" Inseam
At 6'2 and a 37 inch inseam, nothing fits these long limbs better than Amalli Talli!  Their size charts are amazing, easy to follow and I know I can always reach out in an email with any other questions. Thank you for the amazing product you continue to put out!

Amy B.

6'2" | 37" Inseam
I absolutely adore Amalli Talli. I was first introduced to them when they had a storefront at a mall and walked in almost tears. Finally, a place that understands the struggles of being tall. The selection is amazing, with stylish options that actually fit my frame perfectly. No more settling for too-short sleeves or pants. I feel confident and comfortable in their clothing, and I can't recommend this store enough. It's a five-star haven for tall ladies like me!

Lauren C.

6'2" | 36" Inseam